Mini transfer press capable of reaching a temperature of 200 °, with LCD display capable of regulating time and temperature, available in 2 different sizes: 12 or 15cm.
LCD display
Time adjustment
Temperature regulation
Sturdy handle
500 W of power
Max temperature 250 °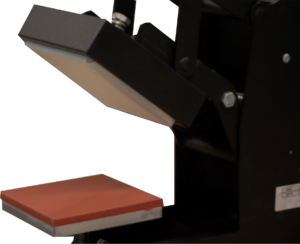 DIMENSIONS
This mini transfer press suitable for welding logos and serigraphs is available in two different sizes suitable for this type of work: 12x12cm or 12x15cm.
PANEL
The operating panel with LCD display allows you to set the temperature that the press must reach and the pressing time: at the end of which it will warn with an audible alarm.
MATERIALS
The press is able to weld logos on materials of different types and thicknesses such as t-shirts, sports fabrics, padded and more in a few seconds simply by setting the appropriate time and temperature.