Machine for hemming jeans, with the possibility of interchanging the stitch between lockstitch and chainstitch, replacing the sewing parts with included kit. Thanks to the upper / lower puller and needle feeding, it guarantees precise stitches even on heavy fabrics with unevenness preventing damage to the fabric. The machine is complete with presser foot lifter, automatic thread trimmer and pneumatic opening guide. Height adjustable column support and touch screen panel with direct drive motor.
Touch screen panel

Possibility to change the stitch between lockstitch and chainstitch with included kit

Seawing cycle programming from the panel

Basting stitch device at the end of the seam

Hem width 12.7 mm

Arm circumference 23cm

Suitable for jeans

Automatic presser foot lifter

Automatic thread trimmer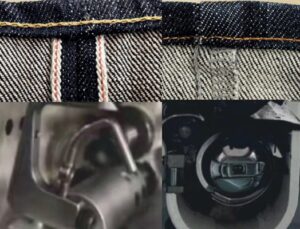 Type of Stitch
Thanks to the double kit included in the machine, it is possible to decide whether to sew in lockstitch or in chainstitch with the same machine, contending the expense and increasing the variety of products.
Devices
Rear belt puller powered by a stepper motor to facilitate the exit of the work performed even if heavy. Pneumatic thread trimmer and kneepress for guide opening controlled by electropenumatic valves.
Touch Screen Panel
Thanks to this touch panel it is possible to adjust the parameters of the built-in motor, bartack and thread trimmer. It also allows the creation of a programmed sewing cycle of the desired length with or without automatic activation of the thread trimmer.