NEEDLE FEED LOCKSTITCH WITH EDGE CUTTER
Lockstitch machine with needle feed system and edge cutter to cut the fabric during sewing. You can easily change sewing technology: side cutting or normal sewing. Adopt touch screen display to control stitch length, reverse sewing, silent trimmer and 8 type different stitch pattern thanks to step motor. Suitable for almost clothing, especially T-shirt, children's clothing, sheets, curtains, etc.
Needle feed
Edge cutter (on/off)
Digital thread trimmer
Digital footlifter
Digital bartack
Digital stitch length
Sewing motifs
4.3" Touch screen display
Short thread
Sealed oil pan
NEEDLE FEED SYSTEM
Compared to normal drop feed with only the movement of the feed dog, this system allows you to drag light / medium fabrics such as sheets and curtains thanks to the needle bar that moves together with the material.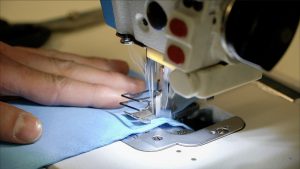 EDGE CUTTER
Turn on or off the edge cutter by turning the lever: this allows you to cut while sewing in the same operation. In addition, the ends of the garment will always have the same distance as the seam.
TOUCH SCREEN PANEL
The touch screen panel controls 2 stepper motors devices that allow you to control all the functions as well as the length of the stitch and the height of the presser foot. There is also an electronically controlled knee.