EMBROIDERY MACHINE 6 HEAD
Industrial embroidery machine with 6 heads and 12 needles each, large embroidery area 40x45cm. Automatic thread trimmer and needle bar change, thread winder device included and tool case. Sturdy structure with support included able to absorb vibrations even at high speed. Possibility of loading or creating drawings via a large modern multilingual touch screen display, through which it is possible to select different fonts and refinements.
6 Heads Embroiderer
Touch screen display
12 + 12 + 12 + 12 + 12 + 12 Needles
DST and DSB file formats
Alluminium stand with wheel included
Large workspace
Various languages supported
Wrap wire included
Tool case included
 
Cap driver 6set , Cap station1 set , Cap frame 12pcs ,
Finished garments fame 12sets (9cm,12cm,1 5cm,19cm,30*30cm)
40cm×45cm frame 6pcs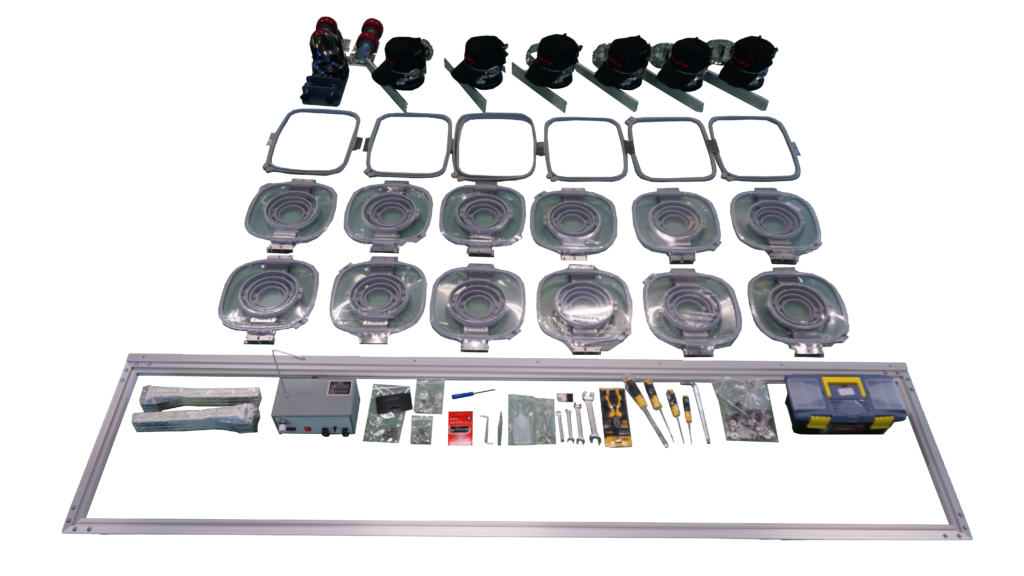 FRAMES INCLUDED
1x Main frame 244x49cm
6x Rectangular frames 39×31 cm
12x Circular frames 9-12-15-19-30 cm
6x Cap hook
12x Cap frame
1x Cap station
TOUCH SCREEN PANEL
Simple and intuitive touch screen programmer panel. You can create words directly from the panel.