Embroidery industrial Machine
Industrial embroidery machine with 1 single head and 12 needles, large work space of 400x500mm. Automatic thread trimmer and needle bar change, thread winding device included and tool case. Sturdy structure with support included which can absorb vibrations even at high speed. Possibility of uploading or creating designs via a large modern touch screen display in Italian, through which you can select different fonts and thickenings. Suitable for all types of embroidery thanks to 14 included frames (rectangular, circular and for hats).
1 head and 12 needles embroidery machine
Large working space 400x500mm
Automatic thread trimmer
Automatic color change
Maximum sewing speed 1,200 rpm
Multi-language touch screen panel
Creation of words with various fonts from the machine
Inserting programs via USB
Reading files with .DST & .DSB extension
Table and industrial sturdy stand included
Tool kit included
Thread winder device included
14 frames included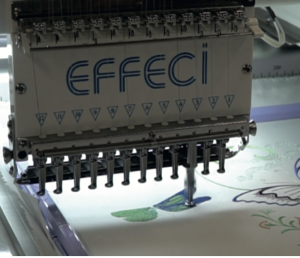 12 NEEDLES
12 needles with quick change from one needle bar to another.
TOUCH PANEL
Simple and intuitive touch screen panel.
Draws and programs can be created directly from the panel, or inserted from the USB port.
STURDY STRUCTURE
Sturdy industrial structure that absorbs vibrations and gives greater stability to the machine formed by table and industrial stand included.
FRAMES
1x Main frame 44×54 cm

1x Square frame 39×39 cm

2x Circular frames 9-12-15-19-30 cm

1x Cap hook

2x Cap Frames

1x Cap Frame Holder