Sewing Machine with free arm
Mechanical free-arm sewing machine with oscillating hook, 24 types of stitch, 4-step buttonhole. This sewing machine is equipped with 3 types of stitches: flexi stitches, embroidery stitches and useful stitches.
Micrometric stitch length
Automatic needle threader
Double height of foot lifter
Double thread holder
Double needle stitching
Double needle position
Reverse button
LED light
Case Included
Complete with accessories
25 STITCHES
Quick stitch selection: you can choose between 12 utility stitches / embroidery and 12 flexi stitches for the most stretchy fabrics. There is also a standard 4-step buttonhole available.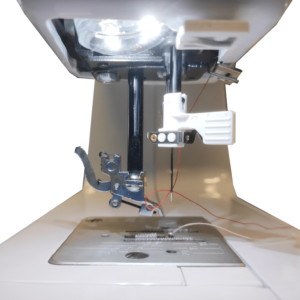 NEEDLE THREADER
The machine is equipped with an automatic needle threader, a double presser foot lift and a reinforced needle plate for thicker fabrics and LED light.
Quick release system to replace the supplied feet. Integrated upper thread cutter.
FREE ARM
By removing the accessories compartment, it is possible to access the free arm to be able to sew tubular garments such as hems of trousers and sleeves.
Wire winder with automatic handwheel release.