Overlock 2 Needle 4 Threads
2-needle, 4-thread overlock with differential with 4 distinct  thread tension adjustments, clear indications for threading, built-in light, overedge adjustment with indicator.
2-needle 4-thread overlock
Differential
4 voltage regulation
Simple threading
Built-in light
Overedge width adjustment
Continuous speed management
Complete with accessories
Waste recovery tray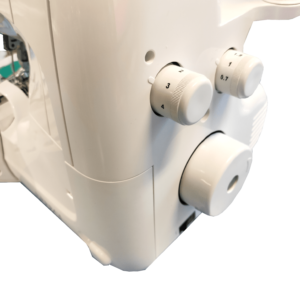 DIFFERENTIAL
Using a knob, you can adjust the length of the stitch and the flat rolled hem. The differential feed is adjusted by means of a second knob.
MECHANICAL PARTS
Reinforced needle plates, easy release of the lower knife, integrated thread cutter on the casing, millimeter fabric guide, quick release of the presser foot and double tab supplied for choosing the stitch width.
THREADING
This machine is designed for quick access to the sewing parts (hook and knives), for easier threading. Accessories included in the hinged panel.