Electronic Sewing Machine
Free-arm electronic sewing machine, self-lubricating horizontal rotary hook with quick threading of the bobbin. Reinforced needle plate. Backlit display with 100 sewing programs, including utility stitches, elastic stitches, decorative stitches, 8 types of buttonhole (in one step) and eyelets. Free removable arm to facilitate tubular seams. Possibility to add the extendable worktop (optional).
Bartack
LCD display
LED light
Automatic needle threading
Double leg lift
Start-Stop start
Speed variator with potentiometer
Needle high low function
Double needle use function
Dustproof case
Built-in handle
ALPABETH
100 characters between numbers and letters in uppercase and lowercase letters so you can embroider names and more with the included letter embroidery foot.
DISPLAY
Easily select the right motif for your work from over 100 motifs using the backlit multifunction panel. Not sure which foot to use?
The display recommends the suitable type among the accessories.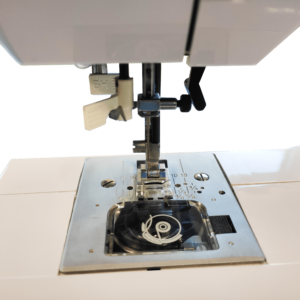 ROTARY HOOK
The machine is equipped with a self-lubricating rotary hook, considered more comfortable in threading and silent during work.
Automatic needle threading and double lift of the foot for sewing thick fabrics.