Machine for sewing jeans belt-loops, 2 needles 3 threads with front trimming knives. Programmable back trimming to cut the belt-loops to the desired length (UTC). Direct drive motor Ho-Hsing and automatic footlifter.
Belt loops making
Front timming knives
Back cutter (UTC)
Direct drive motor
Automatic footlifter
BELT-LOOPS MAKING
Thanks to the special guide, where the strip of material enters, and thanks to the front trimming knives, the loop is sewn in 2 needles with 1/4" (6.4mm) distance above and covering below.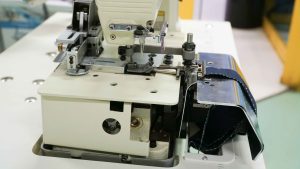 AUTOMATIC CUTTER (UTC)
The UTC model has an automatic trimmer that cuts the loop to the desired length, controlled by the direct drive HoHsing motor.