LABEL ATTACHING BLIND STITCH
Blind spot tacking machine with direct drive motor. It is suitable for link-taking trademarks or labels on sweaters, neckites, jackets, cuffs and lining on suit coats and trousers waistbands. The machine sews without leaving a seam on the outside of the product.
Blind stitch
Link-taking
Direct drive motor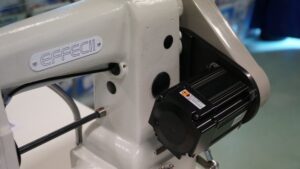 DIRECT DRIVE MOTOR
Energy-saving motor mounted on the machine head with electronic control of bar-tacking numbers and speeds.
LABEL
Thanks to the blindstitch one-thread stitching, you will not see any stitching on the other side of the label.