PROFESSIONAL EMBROIDERY MACHINE
Professional embroidery machine for home or studio with 1 head and 12 needles, large embroidery area 24x32cm. Suitable for embroidery of caps and finished garments. Automatic thread trimmer and needle bar change. Possibility of loading or creating drawings via a large modern multilingual touch screen display, through which it is possible to select different fonts and refinements.
Compact 12 needle embroidery machine
Touch screen display
DST and DSB file formats
Suitable for embroidery of caps and finished garments
24x32cm embroidery area
Various languages supported
Cart included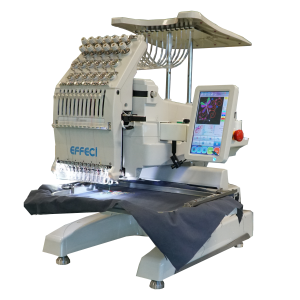 12 NEEDLES
12-needle professional single-head embroiderer with thread trimmer and automatic passage from one needle bar to another.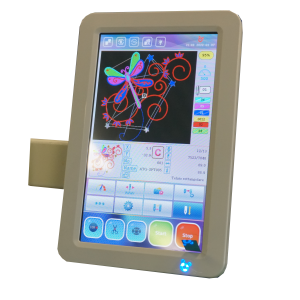 TOUCH SCREEN DISPLAY
Simple and intuitive Italian touch screen programmer panel. You can create words directly from the panel.
FRAMES INCLUDED
Thanks to the various sizes of the frames it is possible to carry out embroidery on many finished garments and also on caps.
1x Main Frame 34×26 cm
1x Circular frames 12-15-20 cm
1x Cap clip
2x Cap Frames
1x Cap Frame Holder